Ministry Profiles
Riley and Lani Brown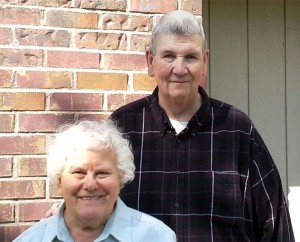 Yielding to the call of GOD-YHVH on their lives, Riley and Lani's desire above all things, is that our heavenly Father be glorified. Their lives are given to this through surrender as the open door to the heart of Father. They are intent on pleasing Him through faith, in the forward flow of "hear and do", reaching out with Father's love to the heart cries of the ones to whom He sends them. And as they move forward in this, Holy Spirit is making their joy full and fruit to remain…all for the cause of Jesus Christ/Messiah Yeshua and Him glorified.
[read more="Read more" less="Read less"]
"We have co-labored with our dear Lord since Resurrection Sunday 1977.  But only since becoming "completed" in the Holy Spirit (Acts  8:14-17) when holy boldness began to come upon us in 1993, has the realm of Father's heart been truly opened to us. Our call and commission is Love, simple as that…to the uttermost parts of the earth." Matt 1:8.
In 1999 the Lord began to lead Riley and Lani to travel to Europe, Israel and American Samoa, ministering His love. They have returned often to the island countries of the South Pacific and New Zealand spending extensive time waiting on the Lord, nurturing ministries and receiving the same.
They have had ministry experience in denominational and independent churches, ranging from working in youth camps in Alaska, leading their house church and ministry on Mt Tabor in Oregon (Mt of Transfiguration in Israel), ministering in New Zealand, Australia, Canada, and several other countries. They ministered in the house church ministry from 1994 to 2011. Currently Riley and Lani are connected to "Radiant, A Jesus  Church", Gresham, Oregon.  Riley and Lani continue to minister inside and outside of the US as Ministers of Miracleship Ministries, Miracleship.org.  And they are in missionary alliance with Menorah Prayer Mountain, Kenepuru, Porirua, Wellington, New Zealand.  Riley also ministers online on Riley's facebook, on west coast field assignments, home meetings and equiping and refreshing the saints wherever the dear Lord has appointed them.
Their ministry has been referred to as an "oasis in a desert", and they have even been asked "are you angels?"
Riley and Lani have been married since 1967.  They received  Salvation in 1977, baptized in water by immersion in 1980, Jesus'-Yeshua's baptism with Holy Spirit 1993, began ministering locally in 1994, and ministering over the world since 1999. Their married and ordained son William and wife Carolyn and family are 'at large' ministers in the Gospel of Messiah Yeshua  with us in Miracleship Ministries.  We are very grateful to have them joined together with us in Ministry.
Father has Chosen and Ordained Riley and Lani in the Gospel of the Lord Jesus Christ (Messiah Yeshua) through "Jubilee Ministries International" Hamilton, Montana, and in relationship with  Sam Sweg Ministries.
Because they are fully given to the Gospel of Christ-Messiah, they trust Him daily for each new adventure of faith and ministry.
"As the dear Lord speaks to your heart, please seek coming into ministry with us as prayer and financial supporters?  Please make contact via the links on this website. We are excited to see whom the Lord joins together with us! Thank you beloved."
————
Since 1994, Riley and Lani have ministered FATHER'S  love  in these locations:
Portland, Mt Tabor, Clackamas, Gresham, Damascus, Salem, Astoria, Oregon City and Fort Stephens, Bend, Sun River, Dufur, Oregon, USA
Caldwell, Nampa and Boise, Idaho, USA
Seattle, Stanwood, Granite Falls, Tacoma and Ellensburg, Washington, USA
Canmore, Lake Louise, Alberta, Canada
Whistler, Vancouver, British Columbia, Canada
London, England
Frankfurt, Germany
Amsterdam, Holland
Vienna, Austria
Munich, Germany
Paris, France
Jerusalem, Tiberius, Mt Tabor and Nazareth, Israel
Bancock, Thailand
Kenya, Africa
Honolulu and Waikiki on Oahu, Hawaii, USA
Apia, Western Samoa
Pago Pago, Tafuna, Viatogi and Leone, American Samoa
Roratonga, Cook Islands
Perth, Fremantle and Sydney-Hornsby, Australia
Auckland, Hastings, Wellington, Porirua, Nelson, Ashburton, Timaru, Wanaka, Mt Sommers, Queenstown, and Arrowtown, New Zealand
Ketchikan, Wrangle, Haines, Skagway, Hyder,  Anchorage, Fairbanks, Tok Junction, Glenallen, Valdez, Soldotna, Homer, Palmer, Wasilla, Talketna, Whittier, Camp Liwa/Fairbanks, and Victory Bible Camp/ Sutton, Alaska, USA.
————
"But now, faith, hope, love, abide these three; but the greatest of these is Love" 1 Corinthians 13:4-7, 13.  "Love Never Fails" 1 Corinthians 13:8a.
How did I receive this call to New Zealand?  In 2001 while in New Zealand we were applying for our third attempt at residency.  When that failed, FATHER spoke to me these words: "If your dad had received his call of Mine to come to New Zealand, you would have been born here, and residence would not be an issue." Believe me, I was stunned!  Then FATHER said, "Will you accept the call and serve Me in New Zealand?"  I immediately said with enthusiasm  "YES LORD, I  ACCEPT  YOUR  CALL  TO  NEW  ZEALAND", and the rest is history!  Since my call and commissioning (Lani's too), Father has brought us to New Zealand well more than a dozen times. The longest we stayed waiting on and serving the LORD was nearly one year.
"I have learned, in the Narrow Way…Absolute Surrender is the open and deep abiding door to the heart of FATHER."  Riley D. Brown
Two of Riley and Lani's favorite books:  Absolute Surrender;  and Like Christ, both by the Dutch Revivalist, Andrew Murray.
JESUS CHRIST-MESSIAH YESHUA IS LORD!
[/read]
Dr. Benjamin and Simotu Williams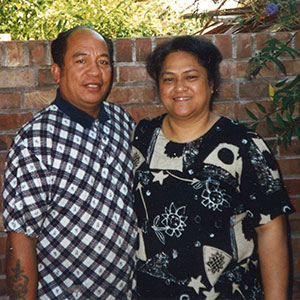 Dr. Benjamin and Simotu Williams and family, church planters, and Shepherding in Wellington, New Zealand. "It has been our great pleasure to serve our Lord and Savior, Jesus Christ in many areas of the Pacific, as well as in New Zealand, Australia, and the United States.
[read more="Read more" less="Read less"] "Since accepting God's call into the ministry some 45 years ago, we have been both highly privileged and deeply humbled to watch the Lord at work as He transforms lives around us, whether in the streets (the trenches, as it were) of both Western and American Samoa, or as we organized ministries and taught in churches, hospitals and correctional institutions."
Dr. Benjamin and Simotu Williams planted and oversee  with their son Timo and Righteous Williams, "Menorah Prayer Mountain" [formerly Bread of Life Multi-Cultural Worship Center] Porirua, Wellington, New Zealand, and Agape Bible School.
"The Spirit of the Lord God is upon me, because the LORD has anointed me to preach good news to the meek-needy, He as sent me to bind up the brokehearted, to proclaim liberty to the captives, And freedom to prisioners who are bound;" Isaiah 61:1
Dr. Benjamin and Simotu Williams
22 Kenepuru Drive,
P.O.Box 50086
Kenpuru, Porirua, Wellington, New Zealand 5240 011-04-238-2271
[/read]
William and Carolyn Brown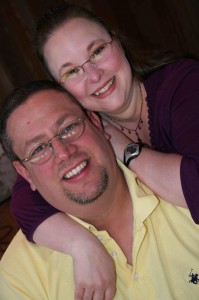 Global Vision and Equipping Leaders/ Overseer/ Chaplain / Church Planters currently on 'at large' assignment with Miracleship Ministries.
Passionate about fulfilling the great commission by investing in disciples and leadership that will create more disciples and leadership via the Holy Spirit. Our goal is to see the love of our Lord Jesus Christ/Messiah Yeshua shown to all those that we encounter. Allowing the Gospel, and the power of the Holy Spirit to transform lives.
[read more="Read more" less="Read less"] *A Recommissioning at The Unction of Yahweh:
In the fall of 2012, Riley and Lani Brown after stepping down from their home church Eldership, received recommissioning from YHVH through their son, William R. Brown, Apostle of Shepherd's Light Ministries to continue in the ministry for which they have been called since 1999. Miracleship Ministries is the name Father chose to  co-labor with Riley and Lani in serving His Love to "Heart Cries", Ps 34:17. Riley and Lani's primary area of ministry outside the USA is the South Pacific and New Zealand.  Jesus/Yeshua be glorified!
[/read]
Sam Sweg Ministries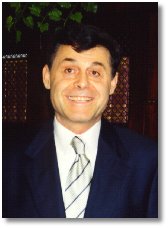 Sam Sweg Ministries is about helping people experience the love and power of God.
Both Sam and Elise Sweg are used mightily by God in the areas of prophesy, working of miracles, and ministry of the Word.
[read more="Read more" less="Read less"] People all over the world have experienced the miracle, life-changing power of God through this ministry.
Regardless of how God uses them, their passion is always the same: They want Jesus Christ to be glorified.
Every person needs to have an intimate relationship with Jesus. Jesus said that to enter into the Kingdom of God a person MUST be born again (John 3:3).
By putting your whole-hearted trust in Jesus, you can experience the love and power of God in this life, as well as spend eternity in heaven with Him.
If you desire to know more about salvation through Jesus Christ, please feel free to contact us.  If you desire to open a dialog with us to invite us to minister in your church, city and country please click the link below.
www.faithfull.org
[/read]